Music classes for babies, toddlers and pre-schoolers in Buckinghamshire and South Northants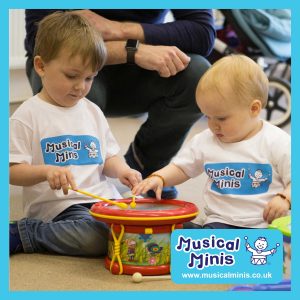 Hello everyone! My name is Sophie Cadigan and I am the franchise owner of Musical Minis for Bucks and Northants.
I am married with two children – Oliver and Evie. Before having my children I was a secondary school teacher I decided however, not to return after maternity leave and instead to become a full-time mummy – something I have always wanted to do. Musical Minis is perfect for me to be able to combine my love of working with children, whilst also being able to look after Oliver and Evie full time.
Oliver and Evie have loved attending Musical Minis and we very much hope you will too!
If you are looking for a fun and relaxed music group, but one that offers structure, and is stimulating for your little ones then you have definitely come to the right place. The sessions run for 45 minutes either by me or my wonderful class leader – Amy. Each child is given our attention and we help them progress in their development, ensuring that both you and your child have 45 minutes of fun with action songs, puppets, story time, instrument time and much more. This is quality time for you to enjoy and spend with your child and see them develop and a great place for you and your child to make life-long friends!
We would love to welcome you and your child(ren) into one of our classes so why not book a place and see how learning is made fun through our Musical Minis programme.
To read Musical Minis Health and Safety reassurance in relation to coronavirus click here.